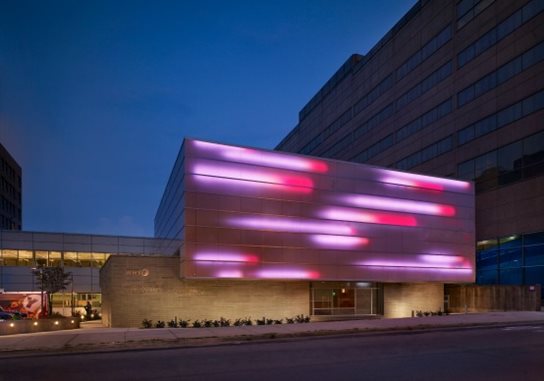 Size: 8,300 sf new construction; 5,100 sf renovation
Location: Philadelphia, Pennsylvania
Architect: KSS Architects
Builder: Hunter Roberts Construction Group
The Dorrance H. Hamilton Public Media Commons is a facility designed to teach the regional community to express itself through digital technology. In partnership with WHYY's many community partners, it was integrated with WHYY's pre-existing 60,000 sf Technology Center, which underwent a 5,100 sf renovation.
This addition includes the Lincoln Financial Digital Media Education Studio, two media classrooms, a student-based digital control room, meeting space, and a reception/display area showcasing the latest works of learning lab students. The building design features an innovative translucent rain screen façade, the first in Philadelphia and one of the largest U.S. installations of its kind. The façade has programmable LED panels and gives WHYY a digital canvas to showcase colorful and dynamic videos that correspond to studio activities inside.
Team members include Hunter Roberts Construction Group as Construction Manager, KSS Architects as Architect, Pennoni Associates as Civil/Landscape Engineer, Keast & Hood as Structural Engineers, Bruce E. Brooks as consulting engineers, Acentech as Acoustical Consultant, Lighting Design Collaborative on Architectural and Studio Lighting, and RJC Designs on Technology Design and Integration.