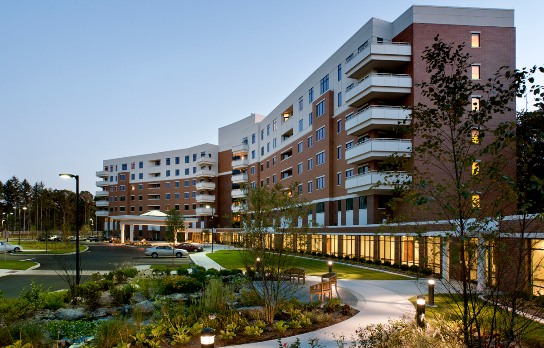 Size: 88 apartments + other spaces in a new seven-story building
Location: Hamden, CT
Architect: SFCS Architects
Builder: KBE Building Corporation
Whitney Center, a not-for-profit senior living community that has been serving seniors since 1979, occupies 15 acres near the west side of Lake Whitney. Planning began in 2006 to revise previous plans for major independent living addition and healthcare facility replacement.
An initial phase was designed to include the addition of 88 apartments in a new seven-story building; a 218-seat Cultural Arts Center, a bistro/marketplace and expanded and redesigned main dining room, new parking garage, and a glass-walled interior promenade called Main Street that includes an art gallery, salon/spa, and expanded library. The new Main Street connector, a glass-walled interior promenade, boasts beautiful natural light and views of the outdoors and campus grounds. Exhibited along Main Street is an Art Gallery, open to the public three days a week. Two defined sections of the gallery allow for exhibits curated by the Arts Council of Greater New Haven and exhibits of original artwork by Whitney Center residents curated by the Resident Art Gallery Committee.
The marketing program began in 2008 and concluded with the financing in December 2009 through the issuance of $89 million in tax-exempt bonds. The project was completed in October 2011.
All Aegis senior living project management services are provided under the Eventus Strategic Partners brand. Eventus provides development management services to primarily non-profit CCRCs and other senior living facilities located in central and eastern United States. For more information on Eventus Strategic Partners, click here.