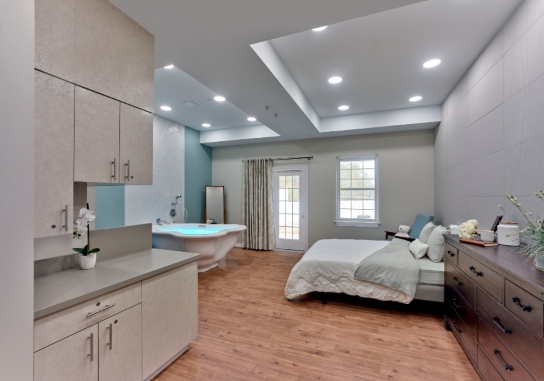 Size: 7,700 SF
Location: Voorhees, New Jersey
Architect: Thriven Architects (formerly Kitchen & Associates)
Builder: Rycon Construction Inc.
Located in a free-standing building on the Virtua Voorhees campus, the Virtua Midwifery Birth & Wellness Center is a midwife-led practice that provides services from routine wellness to gynecologic exams and family planning,  prenatal care and natural childbirth/physiologic birth. It was designed with the intent of delivering a soothing, intimate environment for pregnancy care and birth. At the time it opened, it was the  only free-standing birth center in South Jersey.
The center has three private birthing suites, each with its own outdoor patio;  an obstetrics clinic with exam rooms; one triage room; patient consult space; lab space; and support spaces for clinical and administrative staffs. There is also a community room, kitchen, and family seating area that has lounge furniture and children's areas.