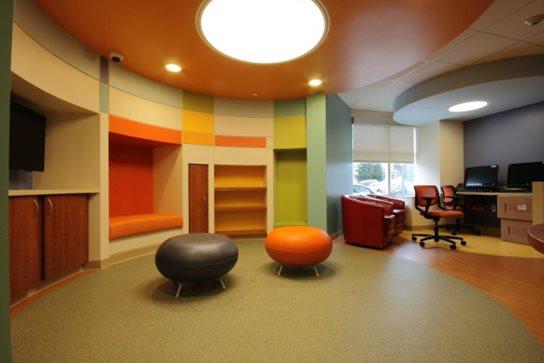 Size: 10,000 sf program
Location: Mt. Holly, New Jersey
Architect: Francis Cauffman
Builder: Turner Construction Co.
Providing a unique approach to pediatric care, the Virtua Memorial Pediatric Hybrid Pavilion combines pediatric emergency services and in-patient rooms in one location within the hospital. This new program was constructed in the ground level parking area under the existing OR and ICU building and connects to the existing emergency department. The program includes eight emergency beds, an orthopedic treatment room, five in-patient beds, family waiting room, family respite space and patient play area.
The team consists of Francis Cauffman (architect), PWI (mechanical/electrical engineer), O'Donnell & Naccarato (structural engineer), Taylor Weisman Taylor (civil engineer) and Turner Construction Company (contractor).