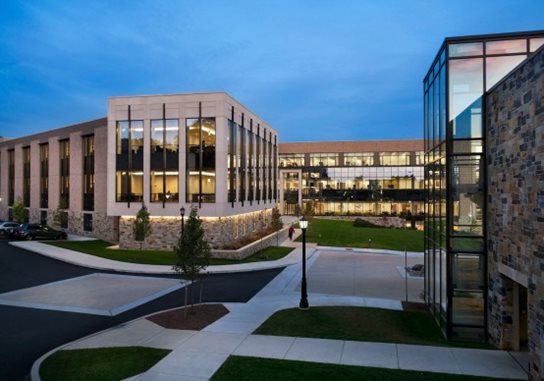 Size: 171,300 s.f. law school; 175,100 s.f., 606-space parking garage
Location: Villanova, Pennsylvania
Architect: SmithGroup
Builder: Gilbane
This state-of-the-art program is designed to accommodate 800 students and includes a law library for 384,000 volumes, study rooms, computer lab, reading room, trial practice rooms, a mock court room, tiered classrooms, student services, justice center, cafeteria, faculty offices and atrium.
The project also includes a structured parking garage, surface parking, site utilities, extensive underground storm water management basins and landscaping.
After developing conceptual plans for the law school on a remote campus, the University explored options for constructing the new law complex on the main campus.  Working with the University's Director of Construction, Aegis developed an overall budget for the project based on four sketches of the proposed building.  The project was approved based on the conceptual budget and the building was designed and constructed within the overall project budget.
The project team consisted of  SmithGroup (architect and engineer), Yerkes (civil engineering) and O'Donnell & Naccarato (structural engineering).
The project achieved LEED Gold certification.