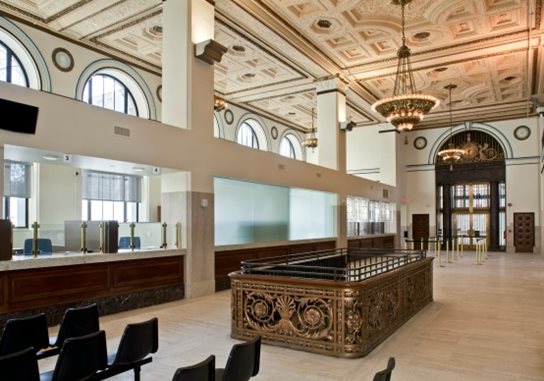 Size: 15,000 sf
Location: Trenton, New Jersey
Architect: SDI Architects
Builder: Turner Construction
The 28 West State Street building in Trenton was transformed from its historic use as a bank branch into a customer service center for Public Service Electric & Gas (PSE&G). This fitout involved extensive preservation of historic elements.
The new office has an exceptionally open feel, plenty of natural light, and provides PSE&G with ample space in which to operate their current and expanding business activities. The new unit consists of multiple private offices, a second floor board room overlooking the processing floor, four customer service stations, and four cashier stations with bullet resistant glass surrounds.
Other team members include SDI Architects, AKF MEP Engineers, Harrison-Hamnett, P.C., and Turner Construction as the Construction Manager.
The project achieved LEED silver certification.