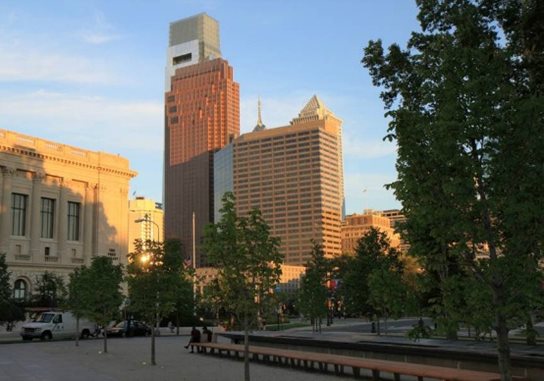 Size: 165,000 sf in Philadelphia; 40,000 sf in New Jersey
Location: Philadelphia, Pennsylvania
Architect: H2L2
Builder: Turner Construction Co.
After almost 30 years in the same South Broad Street office space, Drinker Biddle & Reath, a major Philadelphia law firm, relocated to approximately 165,000 s.f. in One Logan Square, a Class A center city office tower. Significant renovation was completed in the new offices.
Aegis Property Group assisted Drinker Biddle & Reath in financial analysis, building evaluation and lease negotiation. Aegis Property Group also provided comprehensive Project Management Services, including oversight of base building work and management of project planning, team formation, preconstruction, construction and occupancy of the new space.
The tenant work team included H2L2 (design) and Turner Construction Company.
This was Aegis's second project with the law firm. Two years previously Drinker Biddle & Reath consolidated two operations into a single 40,000 square foot office in 105 College Road East, Princeton Forrestal Center, Princeton, NJ. In accordance with the lease conditions, the landlord provided base building code upgrades and a fast track buildout of the tenant improvements. Aegis Property Group assisted in the preconstruction phase of the tenant work package and in the oversight of the landlord's delivery of the tenant space.